The girls opened the dance in Roana with the first semifinal of the day: the reigning champions from Chinese Taipei met the Finnish team. The match was extremely balanced and at the end, with one goal in advance scored by Emmi Juusela, Finland gained the first available spot in the run for the gold.
Chinese Taipei will play against Italy for the Bronze: the Italian were not able to confirm the good trend that characterized their path since the beginning of the tournament and lost against the Spaniards. Tomorrow at 3.30 in Roana there will be the big derby between the north and the south of Europe: Finland - Spain is the Gold Final.
JUNIOR WOMEN - click on the match to watch the podcast
Roana. Great Britain - Colombia 2-1
Roana. New Zealand - Australia 4-1
Roana. Chinese Taipei - Finland 0-1
Roana. Italy - Spain 2-4
July 28 - Junior Women Finals Schedule
Roana. BRONZE MEDAL Chinese Taipei - Italy 2.00pm
Roana. GOLD MEDAL Finland - Spain 3.30pm
France confirmed itself as one of the best team on the rink for technics, strategies and skating skills. In the semifinal "le Bleu" met the Canadiennes, a tough and fearsome team. At the end of the first period, France was leading thanks to the goal by Romain Horrut and back to the rink doubled thanks to Karl Gabillet. Canada never stopped to believe and, after many attempts that seemed not to break the France wall in the area, the well known Hammond reduced the distances and scored the 2-1. Thanks again to Romain Horrut, the French reply did not delay too much in coming and it's 3-1. The fourth goal arrived in power play signed by Karl Gabillet and France flies to the final once again. Nothing to do for the Swiss team against Czech Republic: the Czechs overruled during both the periods and tomorrow will meet France in a match that will be amazing without any doubt.
SENIOR MEN - click on the match to watch the podcast
Asiago. Mexico - Brazil 4-5
Roana. Great Britain - Ireland 4-0
Roana. Australia - Slovenia 1-0 (Forfeit)
Asiago. Slovakia - Chinese Taipei 11-4
Asiago. China - Latvia 0-28
Asiago. Japan - Argentina 6-5
Asiago. Sweden - Germany 9-1
Asiago. Italy - Colombia 3-4
Asiago. Spain - USA 4-9
Roana. Mexico - Roana 11-2
Asiago. France - Canada 4-1
Roana. India - Australia 1-16
Asiago. Czech Republic - Switzerland 10-1
Roana. Poland - Slovenia 0-0
July 28 - Senior Men Finals Schedule
Asiago. BRONZE MEDAL Canada - Switzerland 6.00pm
Asiago. GOLD MEDAL France - Czech Republic 8.00pm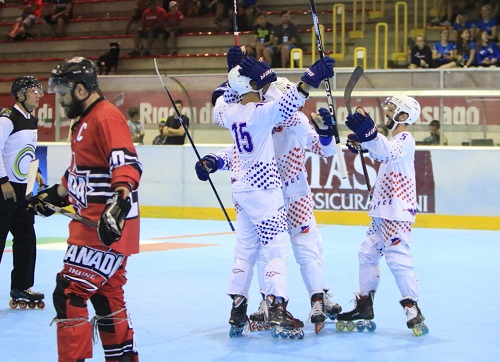 All about the event here
The matches from Asiago will be available on live streaming @ World Skate TV
The matches from Roana will be available on live streaming @ World Skate TV
Live Score & Updated Schedule Senior Men
Live Score & Updated Schedule Junior Women
Senior Men Podcasts
Junior Women Podcasts
Junior Men Podcasts
Senior Women Podcasts
Live Score & Updated Schedule Senior Women
Live Score & Updated Schedule Junior Men
Pics credits: Roberta Strazzabosco & Max Pattis
Facebook Highlights credits: Wissem Jaubert