Support Roller Sports: Vote for World Games Athlete of the Year!

We are very glad and proud to announce that IWGA has selected Bart Swings to be included in the list as a potential Athlete of the Year.

Vote for Bart Swings as IWGA Athlete of the Year 2013. Clik here to vote.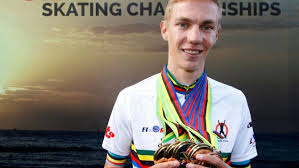 During the World Games he won two gold medals (10,000m and 20,000m elimination race) plus one silver and one bronze medal. Later in the season he won the speed skating marathon in Berlin (59:28) and he set a new record during the World Speed Skating Championships in Oostende (1000 m - 1.20.923).