In the Geisingen Arena, supported by the German Federation - DRIV, the two inline speed skaters Mareike Thum and Felix Rijhnen set the first ever World Skate World Hour Record: Mareike Thum covered 34.336 KMs; Felix Rijhnen quite reached the 40 KMs with a final distance of 39.932 KMs.
"That hour seemed never ending. After 30 minutes I was already weary, but I still had half of it in front of me," said Mareike Thum, who closed just short of her goal of 35 kilometers. "But it's a world record" said the atlete from Darmstadt, Germany.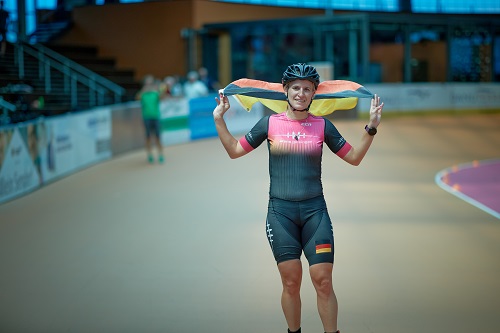 "That hour lasted like ten hours," said Felix Rijhnen after the ride at an extremely constant pace, even though, in his words, "after only fifteeen minutes, it started to really pinch my legs and back. At 202 laps, the clock finally stopped, which put me just under the targeted 40KMs mark which I was hoping to break."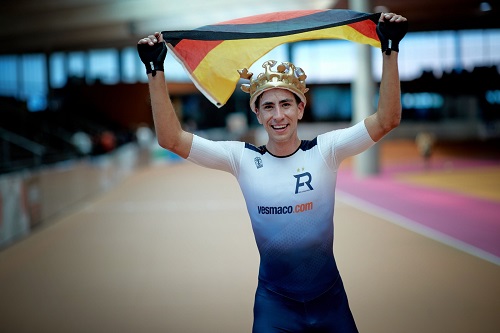 Mario Miconi, Member of the World Skate Inline Speed Skating Technical Commission, awarded Mareike and Felix with a special Hour Record trophy. Mr. Miconi said "I am very happy and impressed by the performances of both athletes and I hope other skaters will try to follow their steps and attempt a new Hour World Record soon!"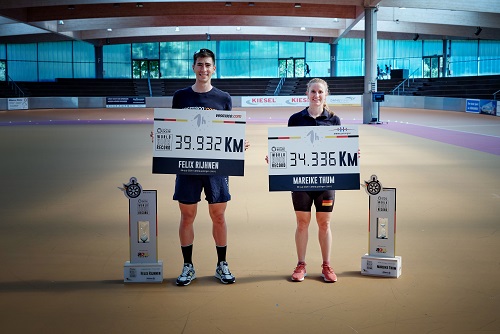 BIOs
Mareike Thum
Mareike Thum grew up in Darmstadt and started to skate in her early childhood. In 2001 she switched from figure skating to inline speed skating. In 2006 she achieved her first big international successes with four gold medals at the European Junior Championships in Martinsicuro, Italy. In the same year, Thum qualified for her first Junior World Championships in Anyang in South Korea and achieved a bronze medal with the German Junior Relay. In 2008 Mareike Thum won the gold medal in the elimination race at the Junior World Championships in Gijón, which up to this point was her greatest international success. Since 2009 she has been participating in the senior women category at World and European Championships. Already in her first year as a senior, she was able to win gold at the World Championship with the German relay team. At the same World Championships, she won her first individual medal (bronze) in the 10.000m Points race on the road, which she was able to repeat the year after. In 2013 she won silver at the World Games in Cali (Colombia) over 1000m on the track. As well the following years between 2014 and 2016 she showed a consistently good performance in the 1000m race with another two silver medals and one bronze medal. At the following World Games in 2017 in Wroclaw, Poland, Mareike Thum led the German team as flag bearer at the opening ceremony. She won bronze over 15,000m elimination on the track and over 20,000m on the road and was able to end successful championships celebrating her first gold medal at World Games in the 500m sprint on the road. As gold medallist, she was awarded the Silver Laurel Leaf by Federal President Frank-Walter Steinmeier. Her latest big success in 2018 and 2019 was winning and defending the World Champion title in the 1000m sprint race.
Felix Rijhnen
Born and raised in Darmstadt (Germany), Felix skates for his home town club, ERSG Darmstadt e.V., since 1995. His first international competition as part of the German National Team was 2004 at the European Junior Championships in Pamplona (Spain). In 2006 he raced his first Junior World Championships in Anyang (Korea) where he set a World Record over 10.000m (Road). After winning his first Senior World Championship medal in 2009 in Haining (China) he got promoted into the Powerslide World Team where he is a member ever since. In 2017 Rijhnen won his first World Championship title in Nanjing (China) during the first edition of the World Roller Games and defended the title in the 2018 World Championships in Heerde/Arnheim (Netherlands). In 2019 Rijhnen won four stages of the World-Inline-Cup which also secured him the overall title of the series.He was also the first German ever to win the Berlin-Marathon in 2019, the biggest Inline race of the world.