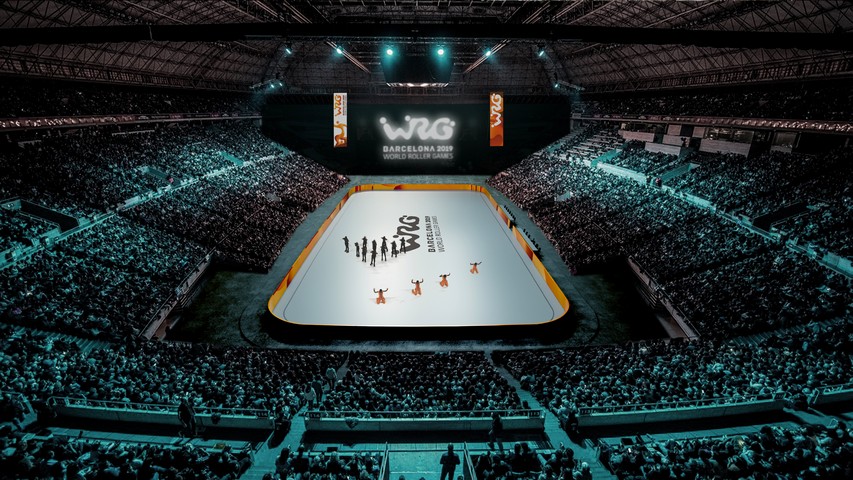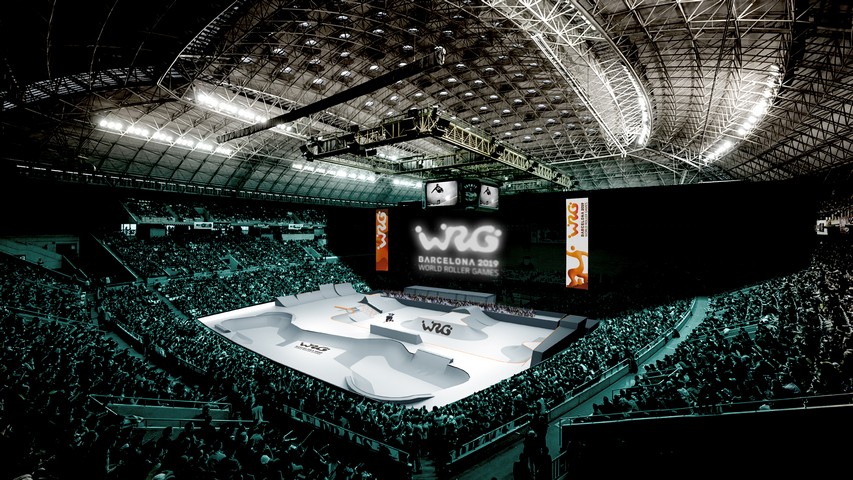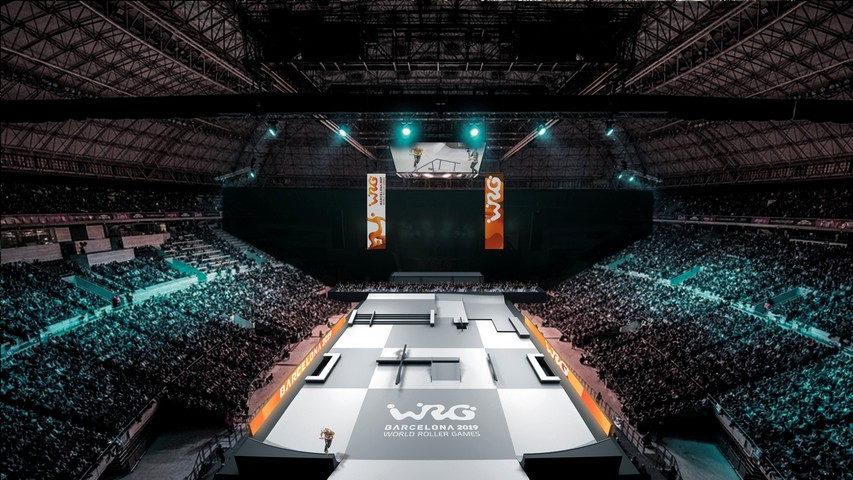 Palau Sant Jordi
COMPETITIONS: ARTISTIC - ROLLER FREESTYLE - SCOOTER
The Palau Sant Jordi is a large arena located on the hill of Montjuïc. Designed by Arata Isozaki and Mamoru Kawaguchi, it was built in 1990 for the 1992 Barcelona Olympic Summer Games. It can currently accommodate all types of indoor sports as well as concerts and other events.
The modern architecture and the considerable dimensions make it one of the most important indoor sports arenas in Europe; it is able to accommodate 17,000 seated spectators for sporting events and up to 20,000 spectators seated for concerts.
The Palau Sant Jordi in Barcelona has been admitted to the European Arenas Association (EAA), the association that brings together the most important European arenas.
Schedule
| day | TIME | sport | Category | event |
| --- | --- | --- | --- | --- |
| 04.07.19 | 20:30 - 22:00 | Opening Ceremony | | Opening Ceremony |
| 05.07.19 | 09:00 - 09:45 | Scootering | Senior Women | Semi Finals Park |
| 05.07.19 | 10:00 - 10:45 | Scootering | Senior Men | Qualifiyings Park |
| 05.07.19 | 12:00 - 13:30 | Roller freestyle | Women | Qualifiyings |
| 05.07.19 | 14:00 - 17:00 | Roller freestyle | Men | Qualifiyings |
| 06.07.19 | 10:00 - 12:30 | Scootering | Senior Men | Semi Finals Park |
| 06.07.19 | 13:00 - 14:20 | Roller freestyle | Women | Semi Finals |
| 06.07.19 | 14:50 - 16:30 | Roller freestyle | Men | Semi Finals |
| 07.07.19 | 15:05 - 15:35 | Roller freestyle | Women | Finals |
| 07.07.19 | 16:20 - 17:30 | Roller freestyle | Men | Finals |
| 07.07.19 | 19:20 - 19:35 | Scootering | Senior Women | Final Park |
| 07.07.19 | 19:50 - 20:35 | Scootering | Senior Men | Final Park - 12 Riders |
| 11.07.19 | 14:15 - 17:55 | Artistic | Senior Women | Short Program |
| 11.07.19 | 18:15 - 20:40 | Artistic | Senior Men | Short Program |
| 11.07.19 | 21:00 - 22:00 | Artistic | Groups | Precision |
| 12.07.19 | 12:10 - 15:30 | Artistic | Senior Women | Long Less Top 10 |
| 12.07.19 | 15:45 - 17:25 | Artistic | Senior Men | Long Less Top 10 |
| 12.07.19 | 17:40 - 18:25 | Artistic | Senior | Pairs Short Program |
| 13.07.19 | 12:30 - 13:35 | Artistic | Senior | Couple Style Dance |
| 13.07.19 | 13:50 - 15:30 | Artistic | Senior Women | Long Top 10 |
| 13.07.19 | 15:45 - 17:25 | Artistic | Senior Men | Long Top 10 |
| 13.07.19 | 20:15 - 22:25 | Artistic | Groups | Small Groups |
| 13.07.19 | 20:25 - 23:00 | Artistic | Groups | Quartets |
| 14.07.19 | 16:15 - 17:25 | Artistic | Senior | Dance Couple Freedance |
| 14.07.19 | 17:40 - 18:35 | Artistic | Senior | Pairs Long Program |
| 14.07.19 | 19:05 - 21:00 | Artistic | Groups | Large Show |
| 14.07.19 | 22:30 - 23:00 | Closing Ceremony | | Closing Ceremony |