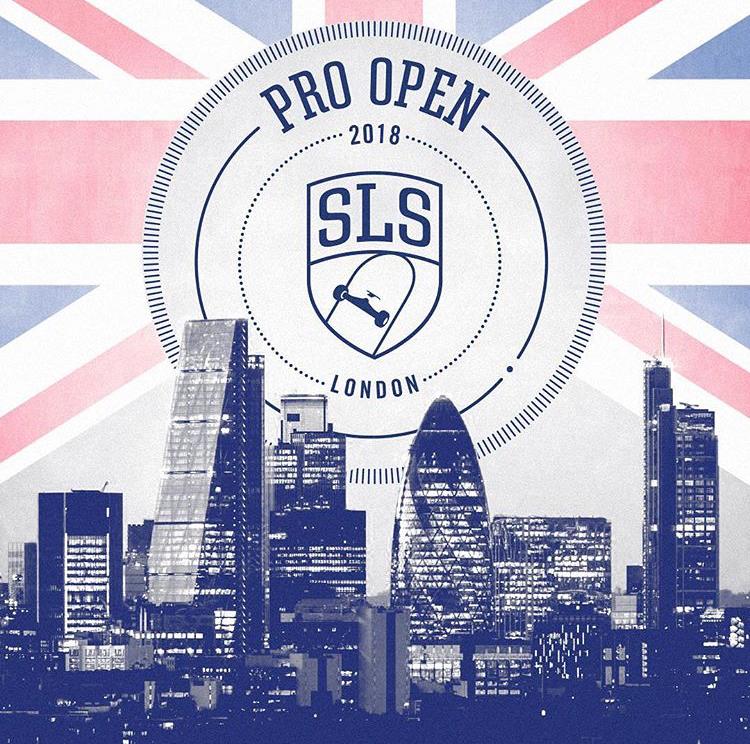 World Skate / SLS London Pro Open
STREET LEAGUE SKATEBOARDING SET FOR SPECTACULAR 2018 LONDON DEBUT
Elite event to celebrate street skateboarding culture and inspire a new generation of UK skaters
In the wake of its recent agreement regarding the Olympic qualification pathway with World Skate (the IOC-recognized international federation), the world's most prestigious skateboarding competition will make its London debut next month at The Copper Box Arena, Queen Elizabeth Olympic Park on 26-27 May.
Hosting the opening event of this prestigious tour is a major coup for London, as SLS and World Skate prepare street skateboarding for its inaugural appearance in the Olympic Games at Tokyo 2020.
Tickets for the SLS Pro Open London will go on sale today, generating excitement from the skate community, including British skateboarding legend Geoff Rowley.
Rowley said, "British skateboarding has held some incredible contests in the past that have gone on to grow and shape the skate scene in Europe - and worldwide. It's great to see the city of London embracing that rich culture by bringing SLS to the city."
---
As well as showcasing the world's best street skaters, the SLS Pro Open London will shine the spotlight on the capital's rich street skating scene, challenging negative perceptions of the sport and celebrating the creativity, physicality, and sense of community at its core.
2017 SLS World Champion Nyjah Huston (USA) and top contender Shane O'Neill (Australia) are among the big names set to intermix with an exciting group of up-and-coming athletes that will compete in London over the bank holiday weekend.
The athletes will battle for pride and prize in a custom-built concrete skate plaza, designed to inspire innovative tricks and take skateboarding to new heights. The competition features an exciting easy-to-follow format, anchored by instant scoring, resulting in down to the last trick 'buzzer-beater' moments that appeal to both die-hard fans and new spectators alike.
This year's World Tour will debut a long-awaited women's qualifier, featuring 2015 winner, Leticia Bufoni (Brazil) and reigning back-to-back champion Lacey Baker (USA).
Bufoni said, "I'm really excited that SLS has added another stop for the women this year. I'm looking forward to visiting London to skate in the Pro Open with everyone."
SLS General Manager, Kaitlyn Banchero said, "SLS is proud to inspire the next generation with this historic showcase of the world's best street skateboarders at the Copper Box in May, and we are honored to serve the established skate community that has been a revered influence and inspiration to our skaters and fans for decades. We applaud Mayor Khan's appreciation of the positive and dynamic force skateboarding is in the lives of individuals and community, and we look forward to working together to develop forward-thinking initiatives to foster its integration and impact year-round."
London is an esteemed and historic hub of urban skate culture and creative expression. The city's Southbank is the oldest continuously skated spot in the world and an incredible representation of the powerful impact street skateboarding can have on the local and global community.
The World Skate/SLS World Tour comes to the capital with the hope of inspiring both the existing skateboarders and the next generation, cultivating deeper connection and dialogue, and supporting the already strong community to authentically serve the future of skateboarding.
The Mayor of London, Sadiq Khan, said, "I look forward to welcoming the world's top skateboarders to London next month. The capital already has a vibrant skateboarding scene and I hope this event inspires a new generation to take up the sport ahead of its inclusion in the Tokyo 2020 Olympic Games."
The World Skate/SLS World Tour is the latest major sporting event to choose the capital as its backdrop, and with only two years until its debut at the Tokyo 2020 Olympic Games, it's fitting that it will be staged at Queen Elizabeth Olympic Park.
Lyn Garner, Chief Executive, London Legacy Development Corporation, said, "We're thrilled that the Park's venues continue to host world-class events like the Street League Skateboarding competition at the Copper Box Arena. This is the legacy of 2012 in action and makes sure that local people have access to the very best sports and entertainment on offer."
World Skate President, Sabatino Aracu said, "Following the historic accord formed between World Skate and Street League, the SLS Pro Open London only further emphasizes the strength of an international federation working with the leading professional league in street skateboarding. Together our ability to facilitate the creation of this great new event for the city of London sets a precedent that will allow us to offer more and more cities around the world an opportunity to showcase world-class skateboarding and the engaging culture that surrounds it. I want to thank Mayor Khan and his team for all their efforts and I hope this is just the beginning of a long and productive relationship celebrating the city of London's support of skateboarding."
As skateboarding continues to make gains on the world's sporting stage, it also continues to thrive in UK communities up and down the country, appealing to a diverse and growing audience.
Lucy Adams, Chair of Skateboard England said, "We're really excited that SLS is coming to London. It's a fantastic opportunity to raise the profile of skateboarding in the UK and will help to increase participation across the country as we see the world's top Street skateboarders competing here."
Tickets for the opening event of the World Skate/SLS World Tour, the SLS Pro Open, London from 26-27 May are on sale now. For more information, visit www.streetleague.com and @SLS.
Media contacts: Lisa Harper, Run Communications (+44) 07940 301514, This email address is being protected from spambots. You need JavaScript enabled to view it. Gemma Williams Fox, Run Communications (+44) 07968 411085, This email address is being protected from spambots. You need JavaScript enabled to view it. Donovan Dresti – SLS Communications +1 408 483 8910, This email address is being protected from spambots. You need JavaScript enabled to view it.
About: Since its inception in 2010, Street League Skateboarding (SLS) has taken street skateboarding from a disparate collection of independent events to renowned global competition. With a premium qualification system of amateur-to-professional progression and thrilling live events hosted in world-class arenas, the SLS World Tour is the preeminent professional street skateboarding competition series. Events take place on custom-built, one-of-a-kind, SLS-certified plazas in major cities around the world, with the best skateboarders competing for the highest stakes. For more information, visit www.streetleague.com
On May 26 and 27, the best skateboarders from around the world converged in London's Copper Box Arena for the 2018 Pro Open. It was the first SLS event ever held in the U.K. The Men's Qualifier is always a proving ground for those skaters trying to earn their way into SLS. After a day of impressive skating, Trent McClung, Mason Silva, Vincent Milou, Gustavo Ribeiro, Ivan Monteiro, Alex Midler, and TJ Rogers all advanced to skate the following day against the SLS Pros.
Saturday also featured the debut of the Women's Pro Open competition. It was, without a doubt, the most intense Female competition in SLS History. Things got underway in Heat 1 when Jen Soto, Mariah Duran, Alexis Sablone, Candy Jacobs, Hayley Wilson, and Pamela Rosa took the course. The big story here is Jacobs. She consistently threw down difficult tricks including a nollie lipslide on the rail and a kickflip 50-50 on the bank to ledge in her first ever SLS competion. Jenn Soto, Alexis Sablone, and Pamela Rosa delivered consistent skating as well. All would earn spots in the Final at by the end of the Prelims.
In Heat 2, we saw Samarria Brevard, Kate Shengeliya, Monica Torres, Margielyn,Arda Didal, Julia Brueckler, and Lacey Baker squaring off in a heated contest. While the ladies struggled in the Run section compared to Heat 1, they definitely brought it during Best Trick. SLS Veteran Sammaria Brevard laid down a perfect kickflip down the double set to earn an 8.0, the highest score of the Female competition. Rookie Margielyn,Arda Didal managed to pull off a mind-blowing back 50-50 late back foot heelflip on the ledge to earn a 7.9. And two-time SLS Women's World Champion Lacey Baker consistently scored well enough to place her in the finals along with Brevard and Didal.
The Women's Final line-up consisted of Sammaria Brevard, Candy Jacobs, Lacey Baker, Margielyn Arda Didal, Mariah Duran, Pamela Rosa, Alexis Sablone, and Jenn Soto. Soto, Duran, and Jacobs really shined in the Run section earning scores in the high 6s. The Best Trick came down to consistency. While there were a couple of high-scoring tricks like Alexis Sablone's kickflip front 50-50 down the small hubba and Mariah Duran's feeble to 5-0 down the rail that earned scores in the 7-range, most of the tricks were scored in the mid to low 6s. At the end of the day, Jenn Soto racked up the most points by dropping a slew of clean tricks including a back lip down the rail, tailslide to fakie on the ledge off the stairs, and front 180 down the double set to win her first SLS contest ever. The ladies really showed an understanding of SLS strategy in the 2018 Pro Open. And they are clearly progressing their level of skating.
FINAL RESULTS
1. Jenn Soto 25.6
2. Lacey Baker 25.2
3. Mariah Duran 25.0
4. Pamela Rosa 23.8
5. Candy Jacobs 23.1
6. Alexis Sablone 22.7
7. Sammaria Brevard 20.1
8. Margielyn Arda Didal 9.6
On Sunday, the Prelims got underway with Carlos Ribeiro, TJ Rogers, Ishod Wair, Micky Papa, David Gonzalez, and Dave Bachinsky battling it out in Heat 1. Ribeiro flowed through some incredibly smooth lines, and laid down a nollie back 180 fakie nosegrind revert to score an 8.2 in the Best Trick section. This locked down a 29.5 score at the end of the heat—putting Carlos in the top spot. But there was still a lot of contest left to go. And, unfortunately for Carlos, the score wasn't enough to advance him to the Finals.
Things really got underway in Heat 2 when Gustavo Ribeiro—who earned his way into the Qualifiers through winning Tampa Am back in November before becoming one of the top 7 to advance on Saturday—unleashed a bigger flip front board down the rail to earn an 8.4 His score was bettered by Kelvin Hoefler's 8.7-earning halfcab noseslide to back tail down the round rail. A battle between the rookie and 2015 SLS World Champion ensued. Gustavo's 8.2 on a crooked grind nollie flip out on the out ledge locked him into 1st place after his heat. He would hang on to that spot for most of the contest. But, more importantly, Gustavo proved that he's capable of competing at an SLS level.
In Heat 3 the world got to witness the first appearance of Mark Suciu on an SLS course. And he skated it as creatively as one would expect. While you could tell he was still getting adjusted to the format, he showed a lot of potential and used the course in ways that we haven't seen before. It will be interesting to see his progression over the course of this season. Tommy Fynn and Sean Malto also delivered some impressive skating, with Fynn earning an 8.6 and an 8.1 for a kickflip crooks and back 180 nosegrind down the hubba, respectively. This locked Tommy into 4th place at the end of the heat.
Vincent Milou showed his desire to be a part of SLS right out of the gate in Heat 4. He blazed around the course landing a series of difficult tricks in a run that was scored 8.3. Chaz Ortiz looked incredibly solid after being out with injuries all of last year and averaged scores in the 8.0s throughout the heat. And Tiago Lemos showed off his inhuman pop with a switch back tail shove it out on the over waist-high ledge. His effort earned him an 8.4, and bumped Tommy Fynn out of 4th place.
Heat 5 was completely dominated by two skaters, Trent McClung and Yuto Horigome. Trent casually cruised around the course like an SLS veteran despite this being his first appearance in the contest. And we all got a taste of what Yuto is capable of last year when he rose through the ranks through the Pro Open and made it all the way to the Super Crown World Championship. Yuto reminded us that he is a rising SLS star with a nollie 180 switch feeble 270 out that earned a 9.1, the first 9-club score of the contest. It also landed him in 1st place—a spot that he would hang onto for the remainder of the Prelims.
Shane O'Neill recently had ankle surgery and was unsure of how he'd be able to perform in London. He started off looking like classic Shane with a run that earned him an 8.8, and a crooked grind nollie flip out on the out ledge that earned an 8.7. Unfortunately, he missed key tricks in the Best Trick section and was not able to advance to the Finals. Felipe Gustavo on the other hand showed that he's definitely in the running to take home an SLS win at some point in the future with a perfectly executed switch flip switch back tail on the out ledge. The trick earned him the second 9-club score of the day, and a spot in the 2018 Pro Open Finals.
The line-up for the Finals in London painted an interesting picture. With Yuto Horigome, Gustavo Ribeiro, Trent McClung, Kelvin Hoefler, Vincent Milou, Felipe Gustavo, Tiago Lemos, and Ivan Monteiro competing, we saw a playing field that consisted of four non-SLS Pros and only one American skater. The message here is that skateboarding is progressing on a global level, and that there is a growing number of emerging skaters that are now able to step in and hang with the top guys on the tour. This was noticeable last year with the rise of Yuto Horigome and Dashawn Jordan. The point was driven home with Ribeiro, Milou, McClung, and Monteiro making it into the Pro Open Finals this year.
Kelvin Hoefler drew first blood with an incredible run that earned him 9.0. Ivan Monteiro and Trent McClung were close behind with runs that scored 8.6 and 8.4, respectively. Then, the Yuto show was turned on and we saw a level of skating that we had yet to see in this contest. He dropped back-to-back 9-club runs and took a commanding lead. He then proceeded to throw down a nollie 360 switch back tail on the rail for yet another 9-club score. It was one of those moments when you witness the bar being raised on the level of skating that we'll be seeing going forward. Felipe Gustavo and Vincent Milou gave it there all with switch backside flip switch back tail on the out ledge and pop shove it to back 50-50 down the gap to hubba. Those impressive tricks were the only other 9-club scorers in the Final. Milou's effort earned him 2nd place and an official slot on the SLS roster along with Trent McClung who finished 5th. But it wasn't enough to catch Yuto, who held on to the top spot despite bailing three out of five attempts in the Best Trick section. He didn't need the scores as he had already done his work in the Run portion of the contest to earn his first SLS victory.
FINAL RESULTS
1. Yuto Horigome 35.1
2. Vincent Milou 34.1
3. Kelvin Hoefler 33.5
4. Tiago Lemos 32.7
5. Trent McClung 32.7
6. Ivan Monteiro 32.1
7. Gustavo Ribeiro 31.5
8. Felipe Gustavo 31.2
New SLS World Tour Qualifiers:

1. Vincent Milou
2. Trent McClung