68 men from 23 countries battled it out in the most diverse Park Skateboarding World Championship qualifiers ever.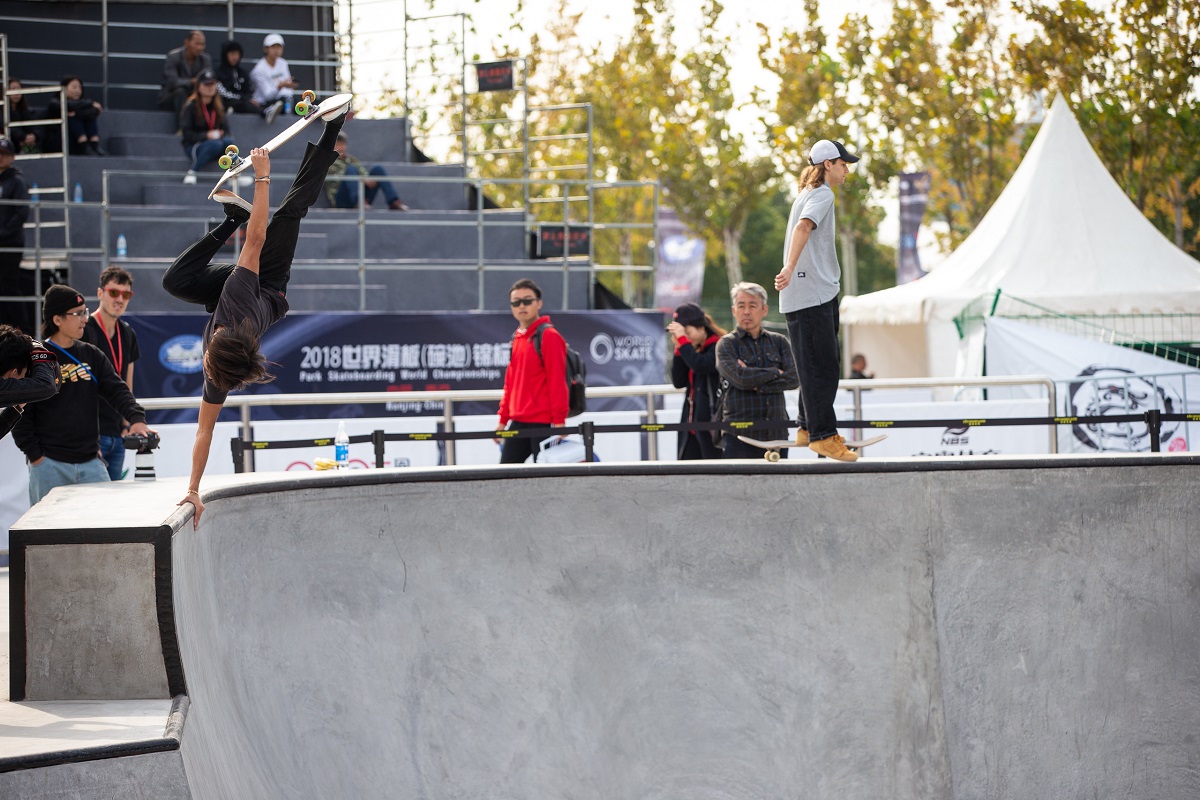 1st place qualifier Heimana Reynolds, frontside invert. Photo: Bryce Kanights
Men's qualifying for the 2018 Park Skateboarding World Championships got underway this morning at the Fish-mouth Wetlands park terrain course. With 68 skaters from 23 countries attempting to earn one of 26 semi-finals spots, where they will meet 4 Vans Park Series finalists from Suzhou, the competition was both fierce and fun. Newcomers to the international scene India and Turkey received warm support from the crowd and their fellow competitors. The noticeable progression of both teams' skateboarding abilities, just in the time they've been here in China, speaks volumes to the value of international event experience and the chance to skate with the best park terrain skateboarders in the world.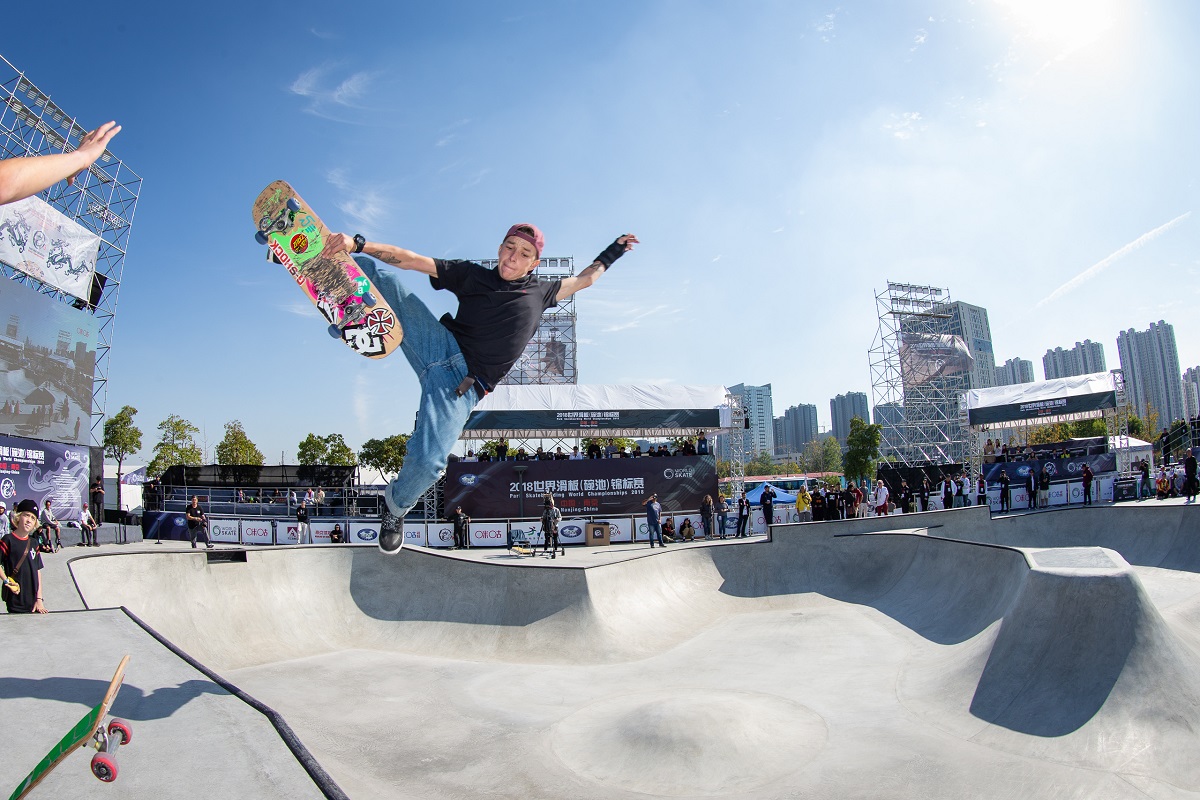 Luiz Francisco BRA, frontside boneless - Photo: Bryce Kanights
When the dust settled after another outstanding day of competition here in Nanjing, three skaters with three distinctly different approaches to skating the course emerged on the top of the leaderboard. Heimana Reynolds (USA) flowing and powerful runs with his signature frontside invert and massive madonnas landed him in the 1st place qualifying spot. He was followed by Luiz Francisco (BRA), a rookie who has made a name for himself this year by making the finals in 5 different park terrain events rode his massive frontside boneless ones and giant airs into 2nd place. Vincent Matheron (FRA) whose aggressive technical approach honed in the iconic Marseille Skatepark had some of the most difficult tricks of the day over the spine including a 360º kickflip to Losi transfer, landing him solidly in the 3rd place spot.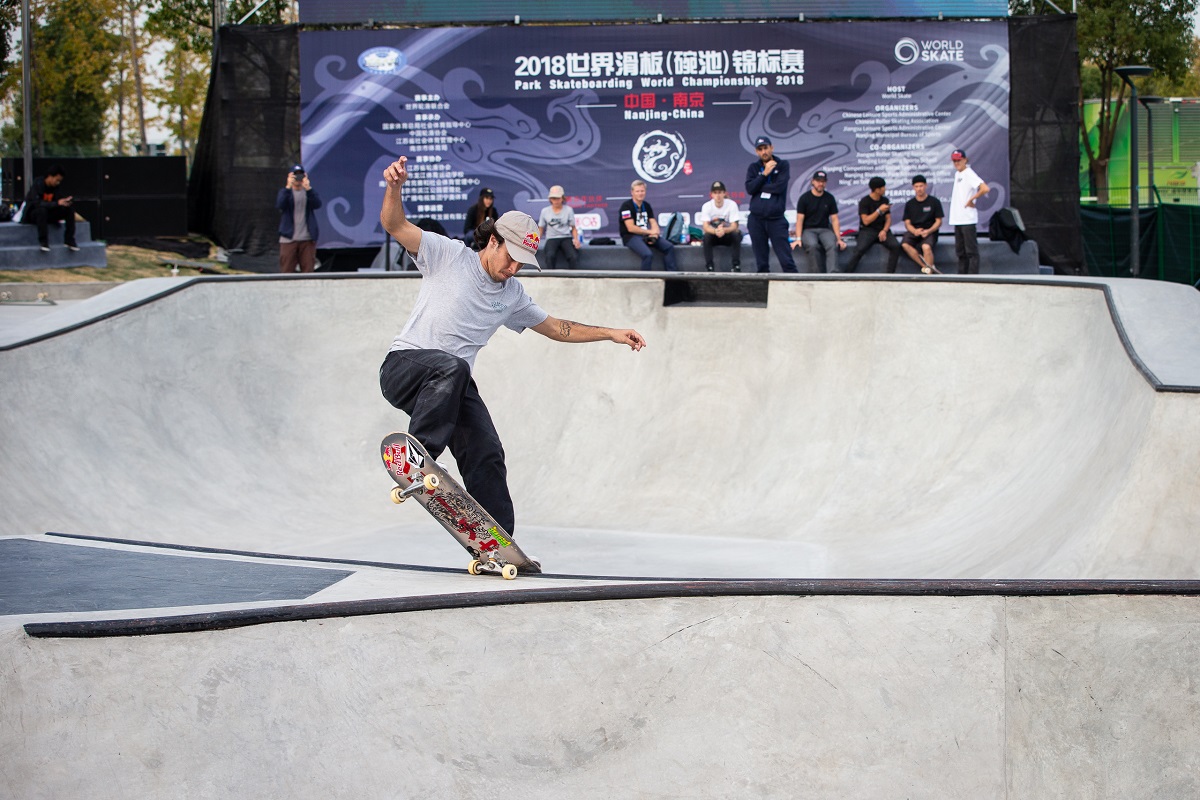 Vincent Matheron FRA, frontside noseblunt slide - Photo: Bryce Kanights
Men's Semi-final Qualifiers from today's round
1. Heimana Reynolds USA
2. Luiz Francisco BRAZIL
3. Vincent Matheron FRANCE
4. Liam Pace USA
5. Jaime Mateu SPAIN
6. Robin Bolian FRANCE
7. Jake Wooten USA
8. Yuto Horigome JAPAN
9. Murilo Peres BRAZIL
10. Kensuke Sasaoka JAPAN
11. Oskar Rozenberg Hallberg SWEDEN
12. Pedro Henrique Quintas BRAZIL
13. Tate Carew USA
14. Danny Leon SPAIN
15. Gavin Bottger USA
16. Keegan Palmer AUSTRALIA
17. Andy Anderson CANADA
18. Jakob Robinson AUSTRALIA
19. Tyler Edtmayer GERMANY
20. Kevin Bækkel NORWAY
21. Simon Karlsson SWEDEN
22. Kiko Francisco PHILIPPINES
23. Ben Hatchell USA
24. Rune Glifberg DENMARK
25. Kevin Kowalski USA
26. Italo Penarrubia BRAZIL
Check here the full results
These 26 men from today's qualifying round will meet four finalists from the Vans Park Series Finals stop last week in Suzhou, China in the semi-finals of the World Championships tomorrow. The full event will be live webcast at worldskate.tv.
Watch the full replay of the Men's Qualifying Park Skateboarding World Championships online at www.worldskate.tv
PARK SKATEBOARDING WORLD CHAMPIONSHIPS MEN SCHEDULE
Nanjing Local Time (GMT/UTC +8)
Saturday, November 3
11AM – Men's Semi-Finals live on www.worldskate.tv
2:30PM Men's Finals live on www.worldskate.tv
GLOBAL WEBCAST SCHEDULE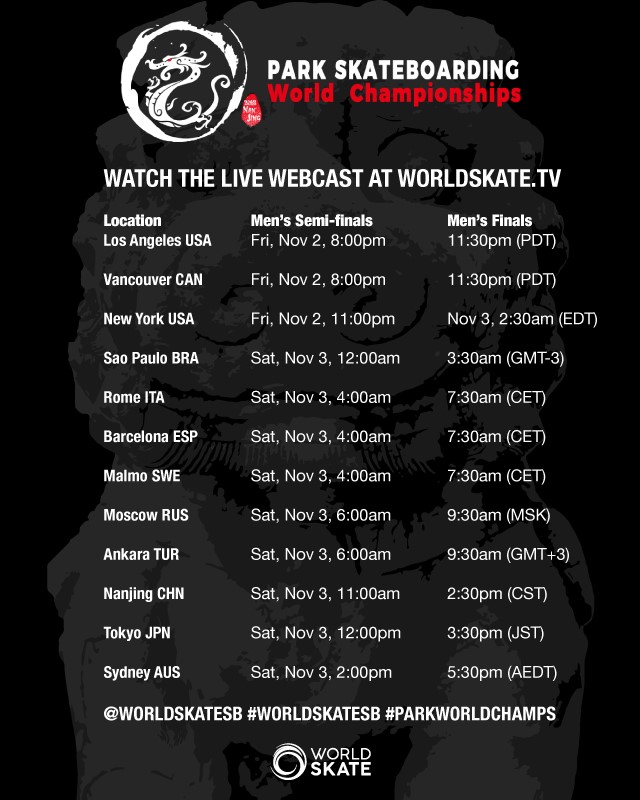 The updated heats groups are available online here:
Follow World Skate on social media for the latest information on the 2018 Park Skateboarding World Championships.
@worldskatesb on Instagram, Facebook, Twitter
Photo Credits: Bryce Kanights