In the interests of striking a balance between repeating ourselves and explaining the immediate environment in which the WST Sharjah World Championships are taking place, let's keep the introduction super brief and suggest at the same time that if you'd like to know more about the fabulous Aljada skateparks and how you might visit them yourself, then perhaps you might like to read some of our previous features on how we came to be here elsewhere on this very blog.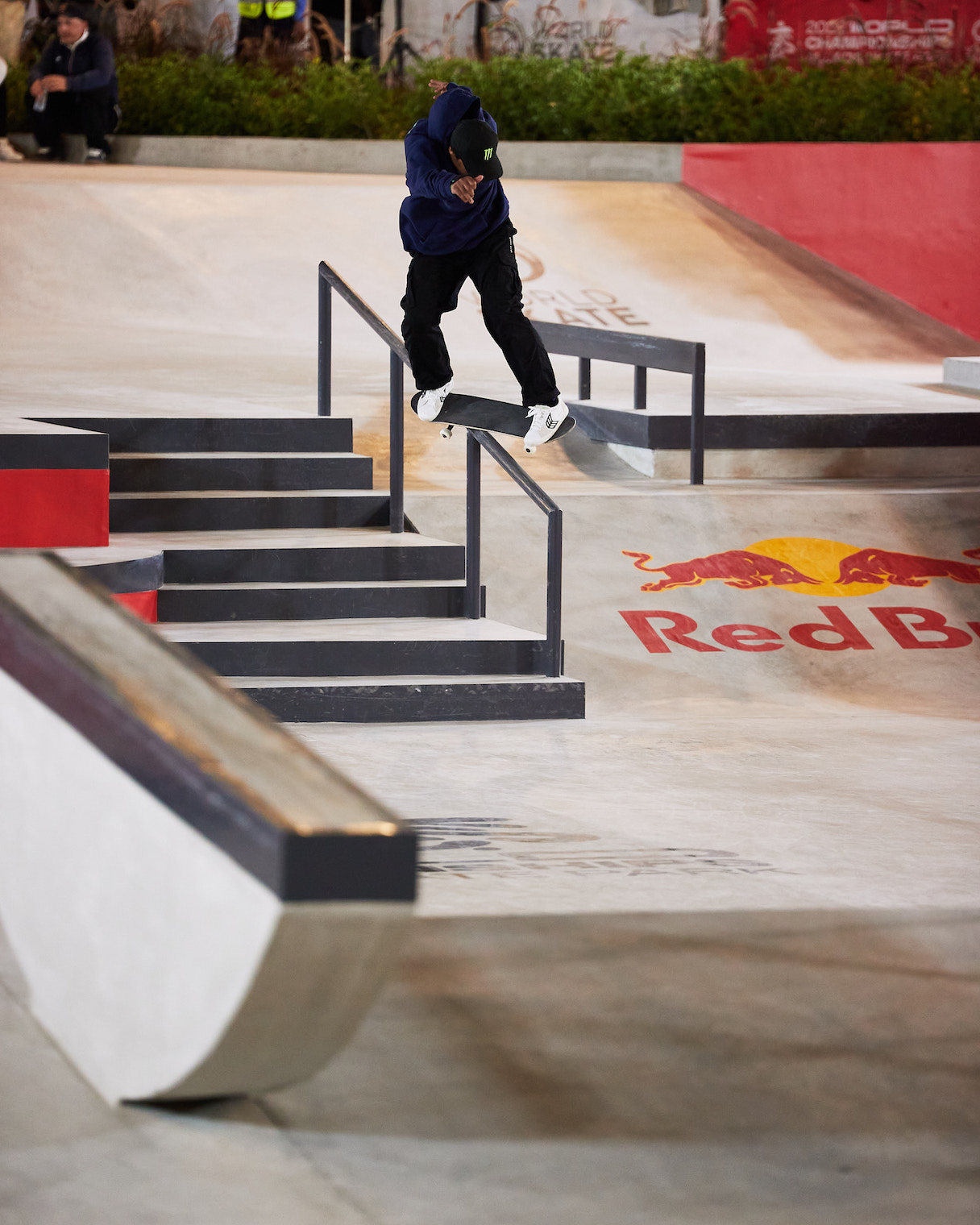 The Aljada skatepark complex is the centrepiece of a family entertainment space in Sharjah, one of the seven Emirates which make up the United Arab Emirates on the Arabian Gulf of the Middle East. Designed by the architectural practice which bears the name of Iraqi visionary Zaha Hadid, this Madar district features drive-in movies, as many as two dozen excellent drive-through food shacks made from shipping containers, childrens playgrounds and more skateable terrain than it is almost possible to imagine. The residents of this neighbourhood and indeed the event support staff have been unfailingly and without exception welcoming and accommodating of our skateboarding tour in a way that I for one haven't personally experienced before during three decades in the game.
Today was the Street World Championship finals, it was packed, the weather was perfect, everything was tickety-boo. So with all that said, let's begin our review- for the purposes of balance, let's start with the men for a change, shall we?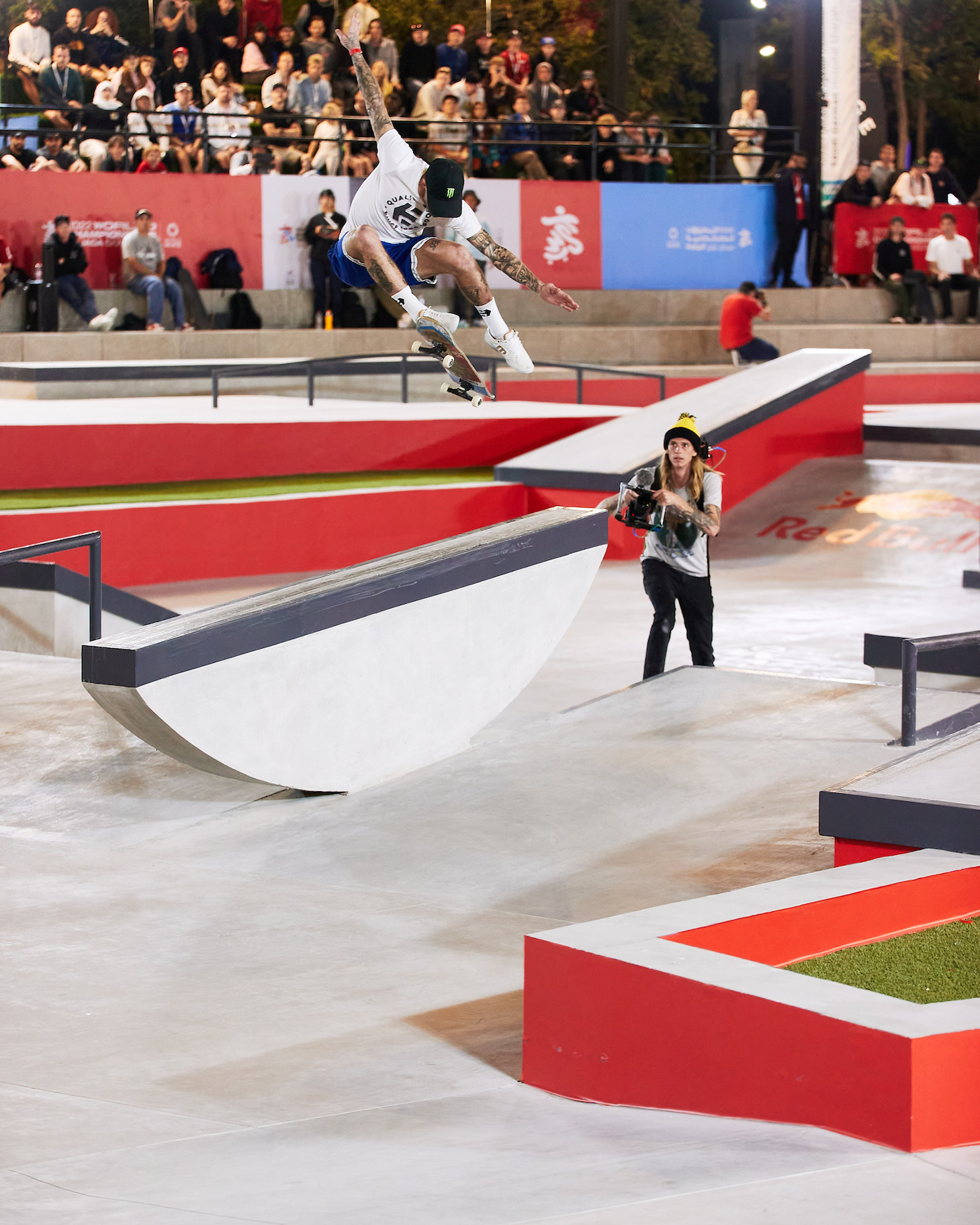 In eight place was the sublimely talented Japanese technician Sora Shirai who has made something of a signature of making things as difficult as possible for himself by caballerial-ing into everything and alley-ooping ollies into grinds which could be made easier by approaching from another side. When it works there is nobody in skateboarding who can do it with the fluidity he can. Today it didn't work enough, alas.
Next above Sora on the leaderboard was Chris Joslin, who also favoured going big and was in medal contention after a perfect first run but besides a huge backside flip couldn't bring home another best trick. That said, he was the crowd favourite and a consummate pro. If he is coming back from knee troubles it didn't show.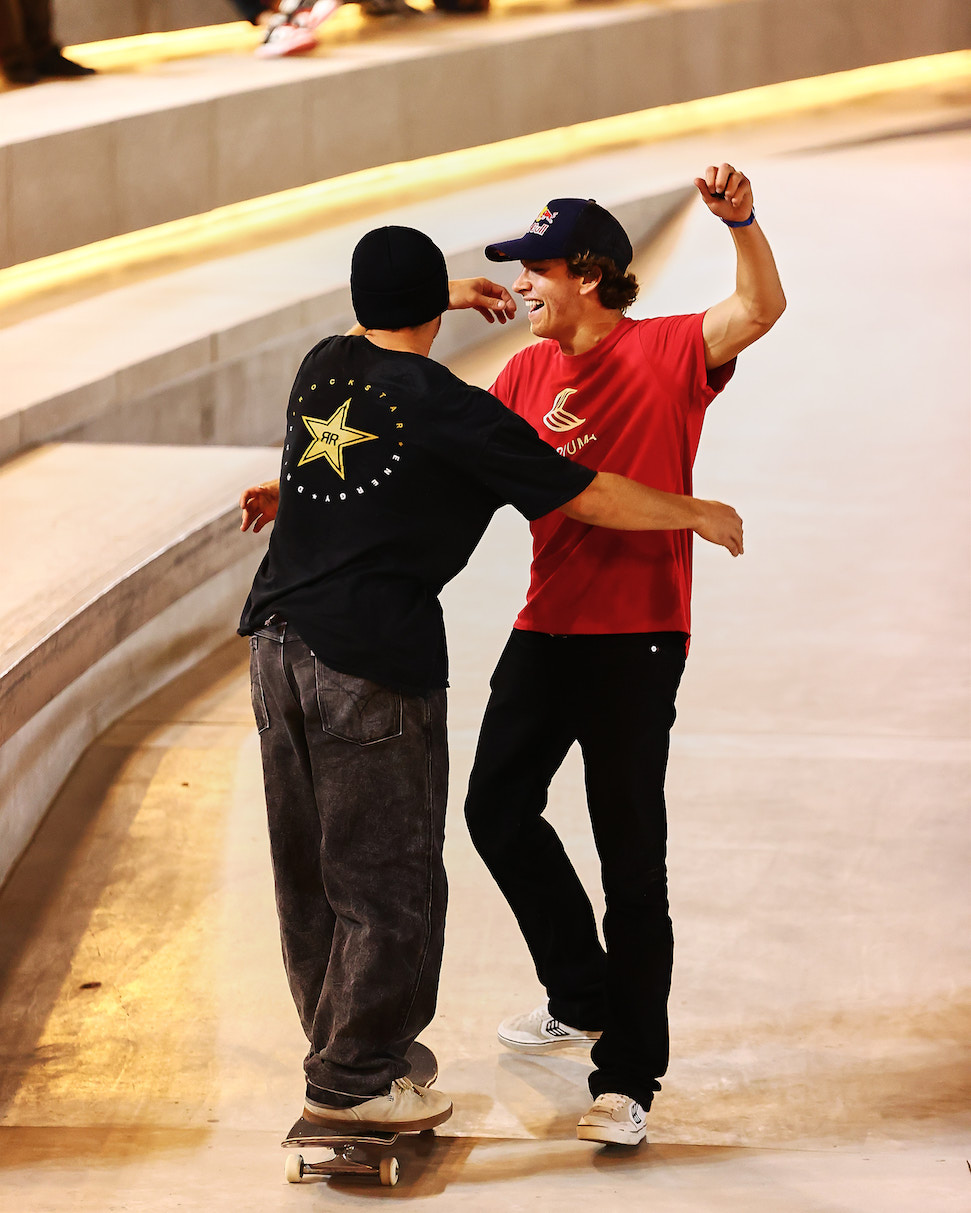 In sixth was Jagger Eaton, many people's early favourite for the overall win given his consistency over the weekend. Despite landing a frontside nollie to fakie 5-0 right out of the best trick gate he couldn't tame his new favourite switch back noseblunt until after the comp was over when he pulled it out of the bag for fun and received the biggest crowd roar of the entire event.
Fifth place went to the criminally under-rated Riso Tury, hailing from the not-especially-famous-skateboarding-hotspot of Slovakia who not only mixed it with the best but smashed it all weekend with an expanding trick bag including a fakie bigspin boardslide on a handrail and a varial heel to 5-0 on the hubba ledge. Why he is not celebrated more by the European skate scene is beyond me- possibly because he is too humble to big himself up. Nonetheless, he was magic tonight against people who were born into skateboarding and he should be proud.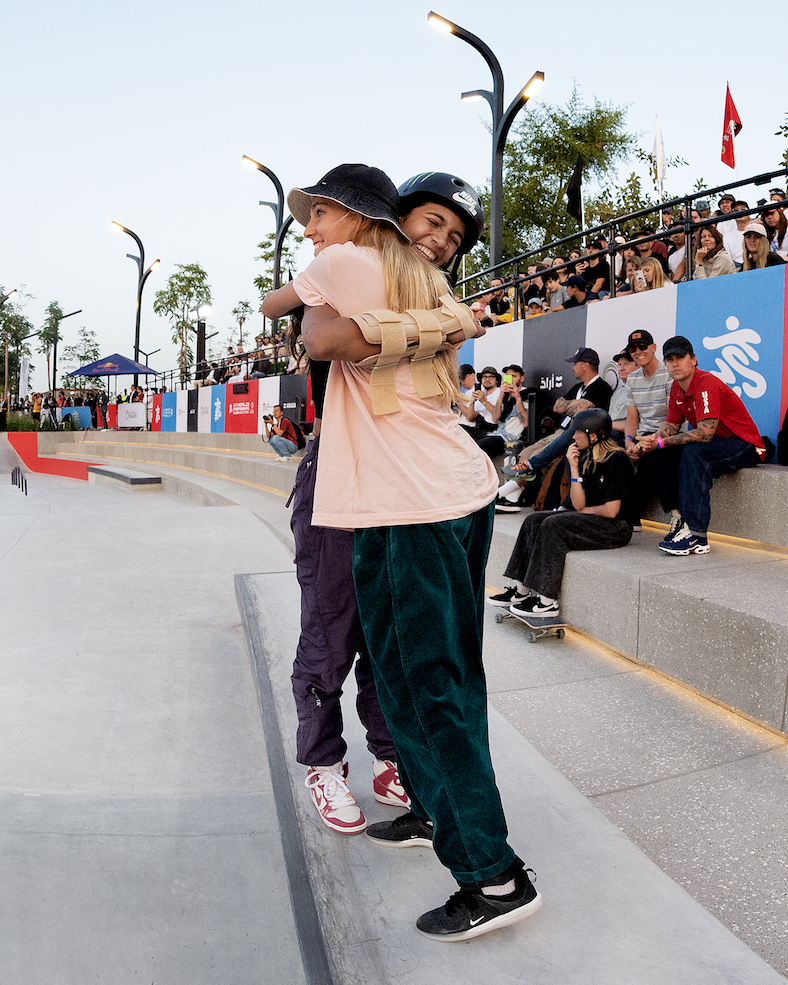 Just outside the podium came Brazil's Kelvin Hoefler who has that Rocky-like ability to come back off the ropes swinging and having nearly broken his wrist on a grisly slam yesterday he made three of five best tricks solidly enough to do himself credit once again with a big powerful style which is always good to watch.
In third was preternaturally-talented Japanese 12 year-old Jinwoo Onodera who must strike fear into the hearts of his full grown competitors with tiny board control and front blunt mastery. Having qualified first he missed a couple of trickattempts he had made in qualifying and in all reality probably suffered points-wise by returning to variations on the front blunt theme 5 tries out of 5.
Nonetheless, nobody else save perhaps Sora Shirai can do even one of those variations so let us recognise the greatness in that fact.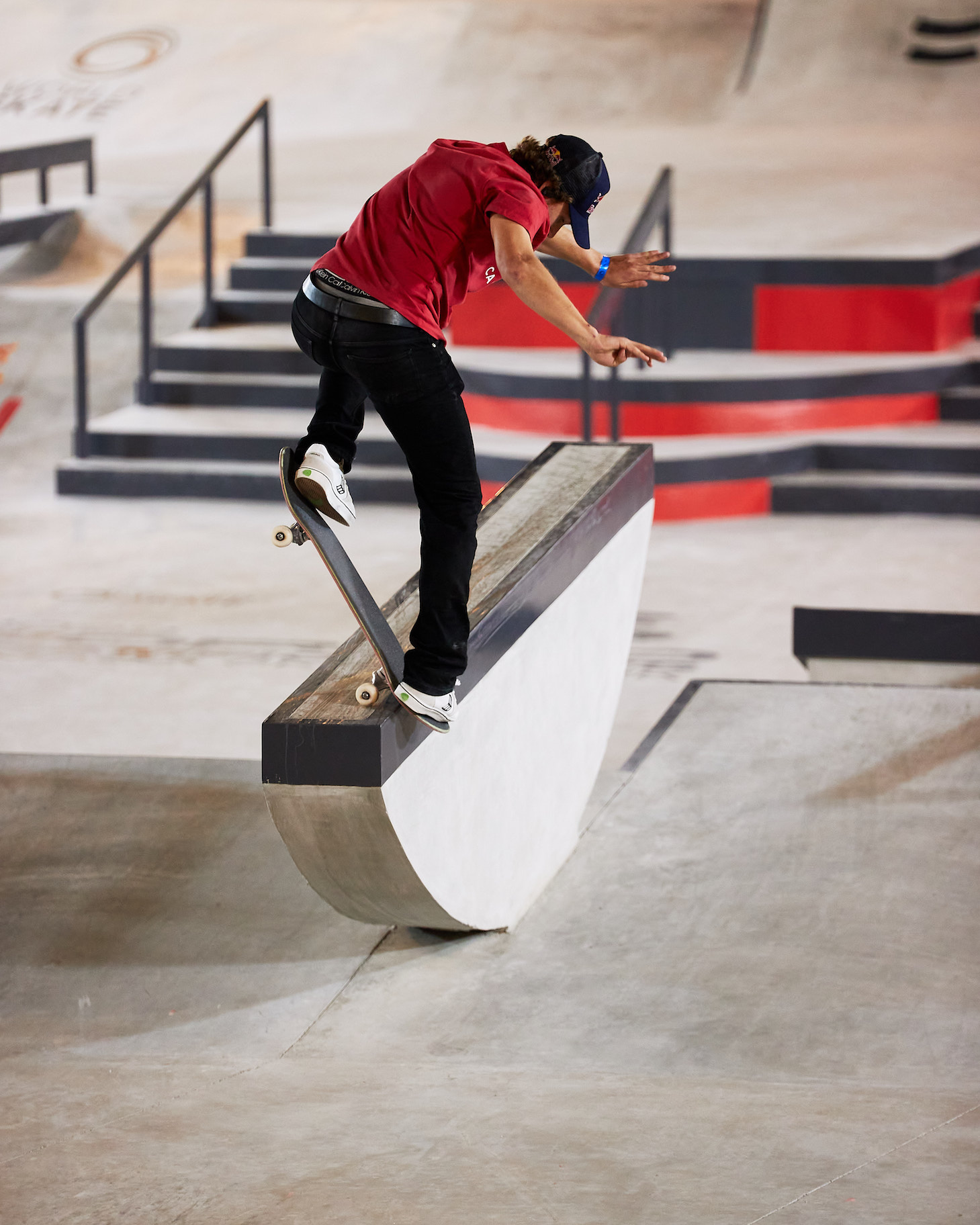 In second place was the crisp, precise Gustavo Ribeiro who has been working on his game tirelessly since Tokyo and will doubtless feel aggrieved that he ended up two small points from victory but lives to fight another day.
In first place, however, and in most people there present's opinions deservedly so at long last was France's Aurelien Giraud who left it all out there on the street course with both a huge backside hardflip (something of a calling card for him) and a backside 360 kickflip like knocking in nails being enough to secure a deserved gold for him. He was in tears, his coach was in tears, it was all rather marvellous.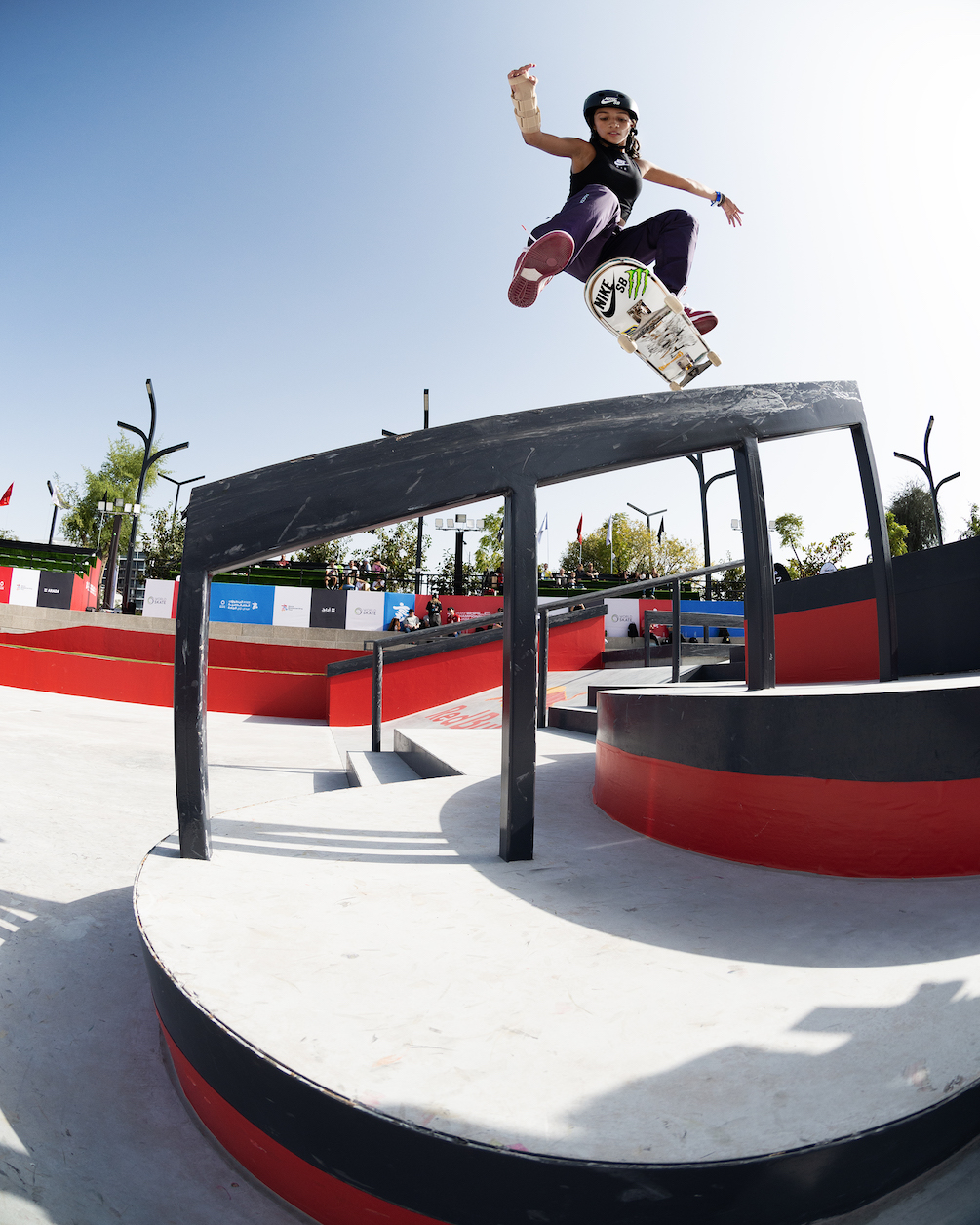 The girls contest was equally as heated two hours earlier, with Brazil's Pamela Rosa demonstrating that she is still the most powerful female street skater in the world with 5 attempts at traversing the big bumps to ledge that every other girl ignored. She only made one of those 5 but had she stuck the fearless gap to crooked grind she would have been on the podium so remember that she only has to be lucky once, there.
Above Pamela came America's Paige Heyn, who as a relative newcomer to this level of competition did herself credit with three best trick makes which, although not enough to trouble the leaderboard, nonetheless put everyone else on notice of the arrival of a new and special talent who is just getting started and with time on her side. She may well prove to be the new figurehead of a USA return to the top flight of competitive female skateboarding.
Gabriela Mazetto was the favourite of the raucous Latin american contingent rocking the stands and not without good reason- the powerful, athletic Brazilian left it until her last trick to lock into a backside tailslide on the hubba but she has real star quality and is a joy to watch. Even her competitors seem to love her and she clearly is at home in this environment. Super impressive all round, all week.
Above Gabi in 5th came Thrasher magazine cover star Funa Nakayama who despite uncharacteristically missing 3 best tricks still stuck the only handrail noseblunt of the women's division as well as her trademark front crook in the process of delivering a solid mid-table standing even if not her most fortunate day in terms of luck.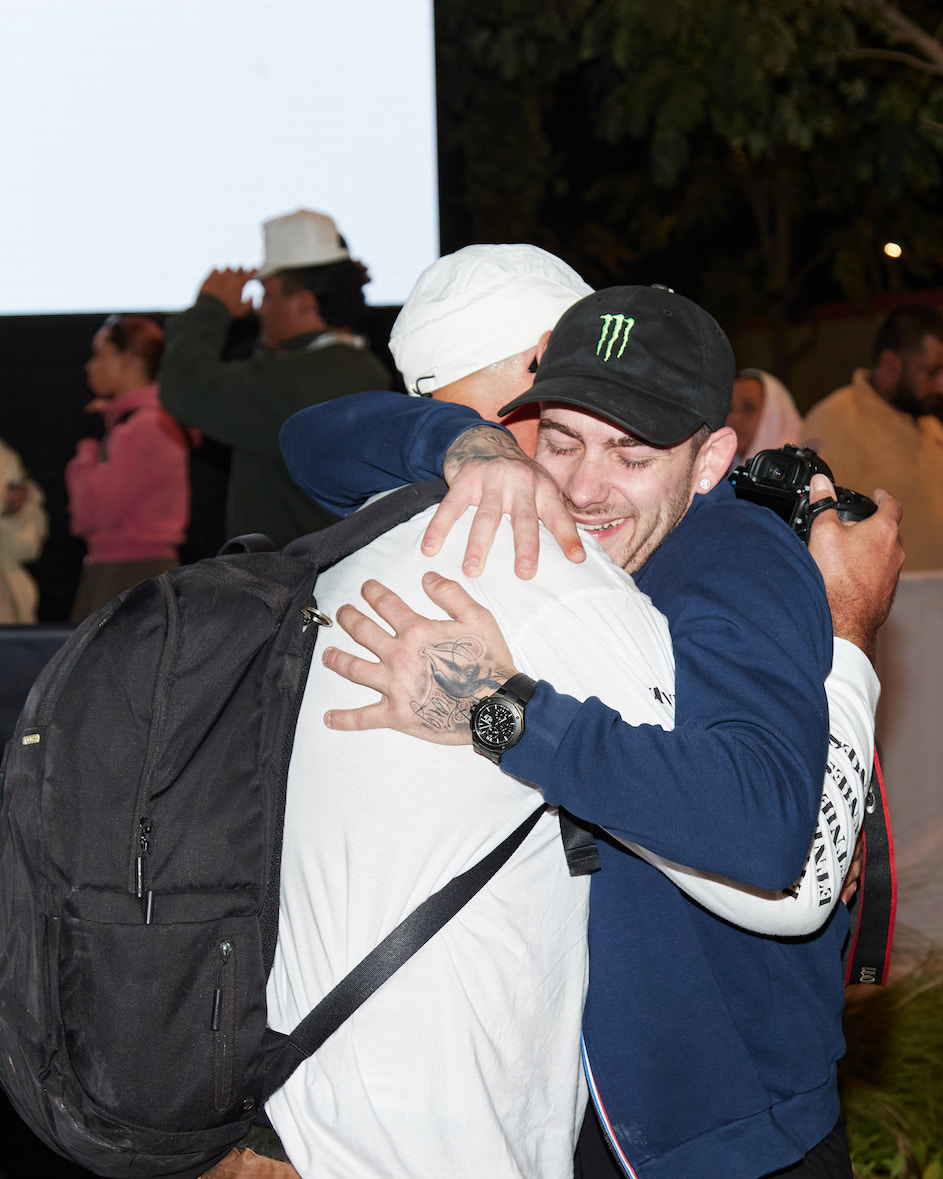 Even within the story of Japan's recent domination of competitive female skating Rizu Akama is something of an unknown quantity with less name recognition than her Olympian peers, but she has a deeper trick bag than any other Japanese girl including frontside 180 fakie nose grinds and Barley grinds you won't see any other girl attempt, much less make.
Bookending the podium, then, comes Olympic gold-holder Momiji Nishiya who has broadened her trick repertoire since last we saw her in Rome, both flipping out of crooked grinds and backside bigspinning into front boards with what seems like relative ease to her. Added to a flawless first run and she was nailed-on for a medal and so it proved to be.
Edging out Momiji and sure to be a future star herself is Australia's Chloe Covell, who at only 12 years old still had the presence of mind to signal her disregard of her first trick before stomping 2 flip variations on the big drop as well as some precise ledge work to afford herself three best trick makes to choose from. It is hard not to watch her and think of Guy Mariano in Video Days, which is to say a gift expressing itself way ahead of the expected trajectory of time. A worthy second place.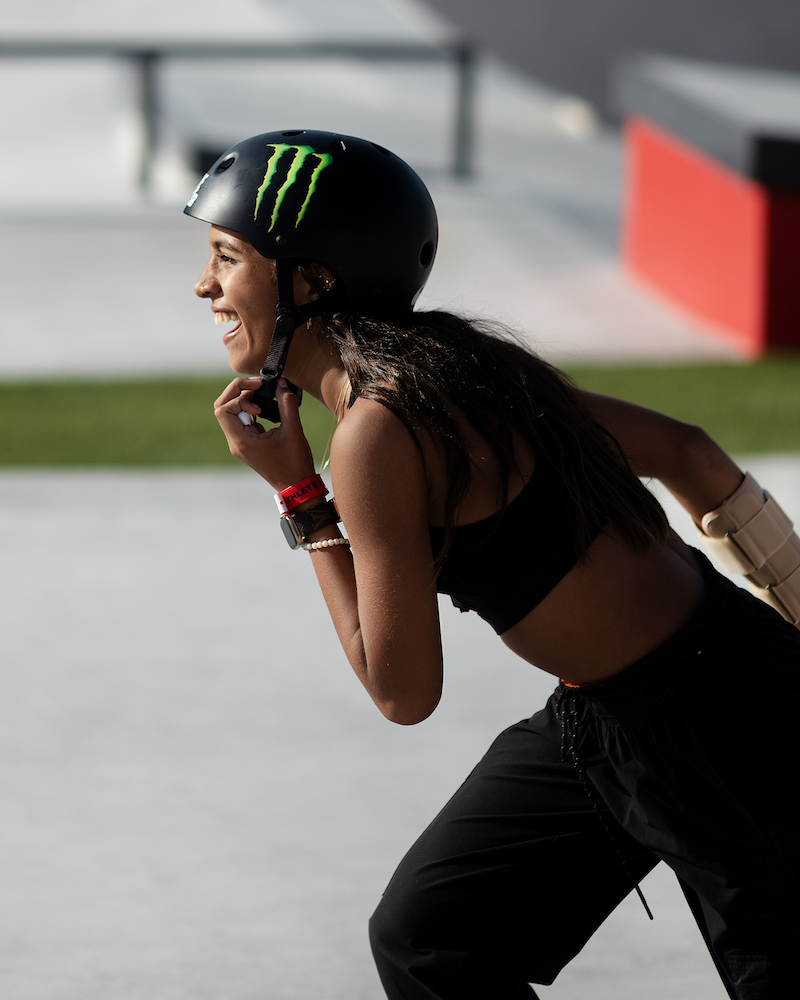 That leaves the one and only Rayssa Leal the delight of taking the top spot for her native Brazil.
Despite skating with a heavy wrist guard, she demonstrated that she has matured beyind the girl in the viral video with the butterfly wings into a young woman who can seemingly kickflip into handrails at will. For the first time in what seems like a long time the Brazilians had an equal number of finalists to the Japanese and as Rayssa matures and trains in her new purpose-built park she may well once again become the girl to beat.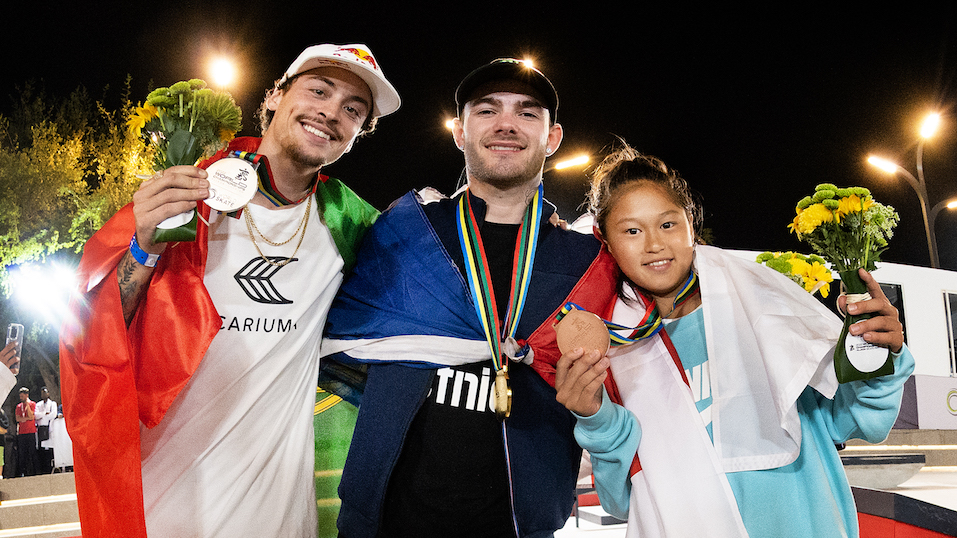 Thanks once again to our hosts Arada and the good people of Sharjah for hosting such a genuinely ground-breaking event. See you all in Rome!
To watch all the action for yourself just follow the links below

Written by Niall Neeson