For the first time since several months now, the top Inline Alpine athletes from all over the world could meet in Slovenia for the World Cup kickoff of the season 2021.
Red Bull, as the main sponsor of this World Cup, showed a great event program for this very special event. With a lot of effort, the organizer, and the city of Vuzenica have planned a great race: Specifically, for this World Cup the street in the competition area was completely renewed.
The first event on Saturday was the world ranking race 'Vuzenica Cup -SL'. Nearly 100 inline athletes competed in different age groups. Unfortunately, the weather conditions were not very comfortable for the athletes. Both runs took place during persistent rainfall. Since rain had been also expected for Sunday, the athletes used the prevailing conditions to do material teste.
With the best time of all women Elea Börsig (GER) achieved the first place (59,59), closely followed by Gabriela Möllerova (CZE) with the second place (59,61) and Manuela Schmohl (GER) with the third place (1:01,87). In the men's event, Sven Ortel (GER) secured the first place (55.61). Followed by Sergio Perez Mendez (ESP) on the second place (56.25) and Moritz Waibl (GER) on the third place (56.33).
All athletes and organizers hoped for better weather conditions for the World Cup on Sunday. However, this was not the case. The weather conditions were comparable to the day before. Hence, both runs took place under rainy conditions. For the second run the organizers even had to flood the racetrack with water to guarantee similar conditions for any athlete. Finally, 22 women and 28 men qualified for the first World Cup.
With best times in both runs and a total time of 56,25 Elea Börsig again took the lead in the women's World Cup, followed by her teammates Mona Sing on the second place (56,53) and Manuela Schmohl on third place (56,89). Further positions: 4th place Gabriela Möllerova , CZE (57,11), 5th place Anna Borras Solsona, ESP (59,01), 6st place Aura Coronado Mateu, ESP (59,10).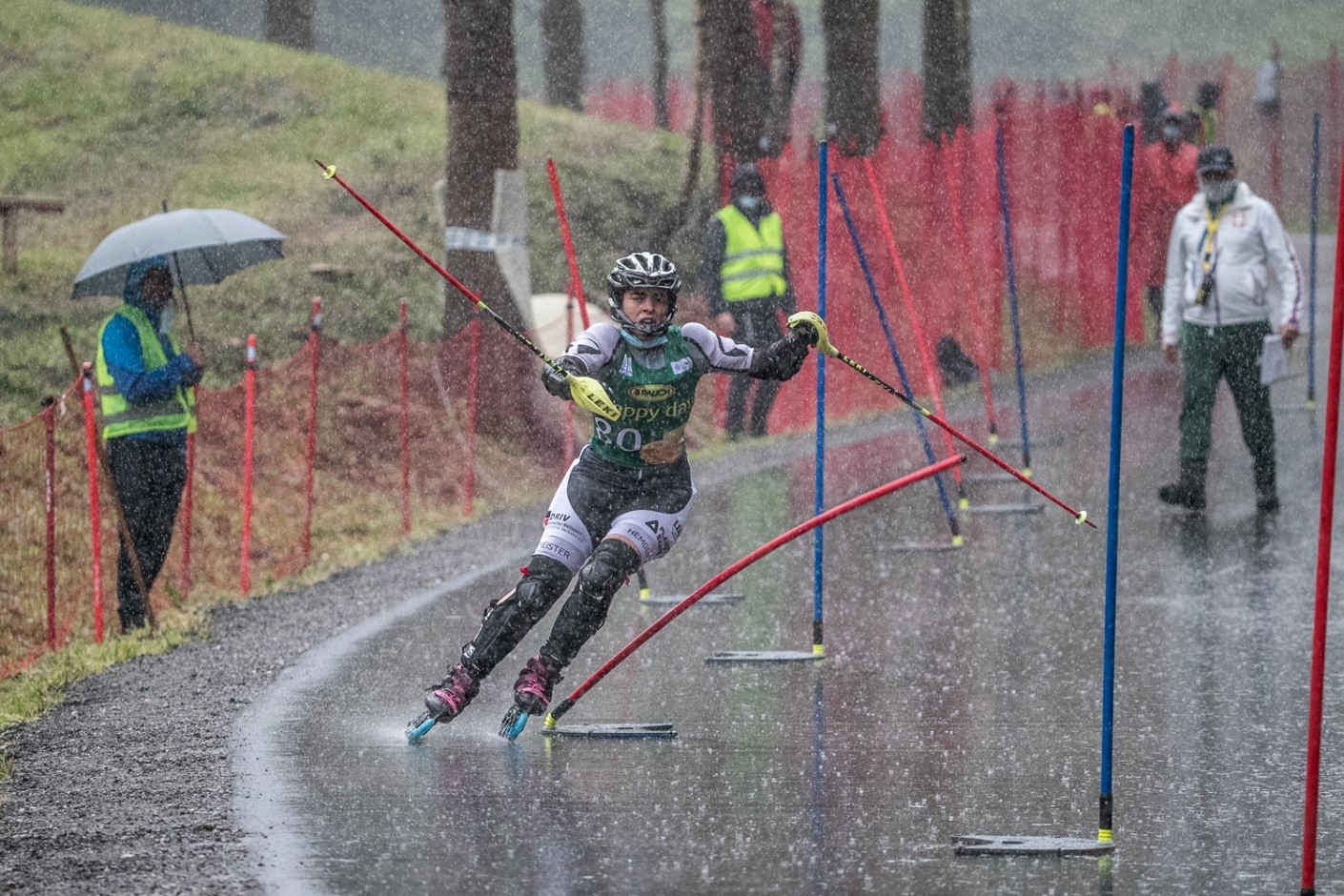 In the men's event, Moritz Waibel (GER) was the leader at first, but due to a driving mistake got disqualified in the 2nd run. Noah Sing (GER), has proven his top form and won his first gold medal in the men's World Cup with an overall time of 52.80, followed by Sven Ortel (GER) on the second place (52.88) and Sergio Mendez Perez (ESP) on third place (53.15). Other placings: 4th Davis Zvenjieks, LAT (55.15), 5th Maximilian Schödlbauer (56.43) and 6st Maximilian Löw (56.96), both team Germany.