FIRS President visiting the Argentinian Secretary of Sport for FIRS Wolrd Championships 2017 - Roller Games

FIRS President Sabatino Aracu, during his trip in Argentina, had a meeting with the Ministry of Sports Claudio Morresi and Cap President and Vice President at the Olympic Training Center in Buenos Aires, during which our disciplines have raised great interest. Such strong consideration in the national sports scene of Argentina have led to the candidature of Argentina, in this case the city of Buenos Aires, to host the first edition of the FIRS World Championships 2017 - Roller Games.



For this purpose, the skating rink within the Center has been inspected. The facility, with some renovations could easily be adapted to host Roller Speed Skating events at a global level.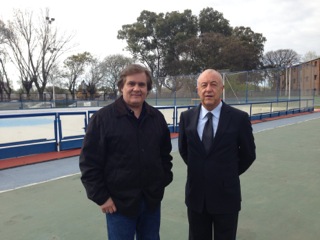 Cap Vice-President Mr. Daniel Ventura, Cap President, Mr. Marcelo Martinez, FIRS President Mr. Sabatino Aracu