Fast and spectacular races are the perfect way to close the first half of the 2021 World Championships.
No surprises on the 500mt in the Senior categories. Maria Fernanda Timms and Geiny Pajaro won gold and silver for Colombia. In third position Maria Loreto Arias from Ecuador. In the men, the dynamic Colombian duo Edwin Estrada and Pedro Causil won gold and silver. Bronze for Ricardo Verdugo Campos, Chile.
The Junior category raced the 1000mt where Colombia won them all. In the ladies, Ana Sofia Ruiz won the gold medal followed by her teammate Kollin Andrea Castro. Third place went to Belgium with Fran Vanhoutte.
The last lap of the Junior boys was an heart-stopping. Colombia prevailed over Italy in a really close finish. Stiven Andres Gonzalez crossed the finish line with a time of 1:24:796 and Andrea Cremaschi with 1:24:811. Third place for France Louis Colin.
The queen race of the track, the relay, did not disappoint expectations.
In the Junior Ladies, two European countries reached the podium. Gold for Colombia with Mariana Chaparro, Maria Camila Vargas, Kollin Andrea Castro. Silver for Team Italy, Sofia Saronni, Ilaria Carrer, Camilla Beggiato. Bronze for France with Sterenn Delugeard, Mathilde Champagnac and Julia Nizan.
Similar results in the men's one. Colombia won the race with Salomon Carballo, Juan Jacobo Mantilla and Elimelec Ospino. This time, France got Silver with Kevin Fourneret, Matthis Rocher and Florian Bernard. Bronze for the young team of Italy: Manuel Ghiotto, Riccardo Ceola e Andrea Cremaschi.
The senior relays were surprised by the rain who made postponed the race to the morning after.
The team from Chinese Taipei showed again that they are in a great shape and overtaken Team Colombia on a crazy photofinish. Yang Ho-Chen, Li Meng-Chu, Liu Yi-Hsuan won the gold medal. Fabriana Arias, Maria Fernanda Timms and Gabriela Rueda got silver. France with Marie Dupuy, Mathilde Pedronno and Marine Lefeuvre pick up the bronze.
In the Senior Men, Colombia with Pedro Causil, Oscar Cobo and Andreas Jimenez are the New World Champions, followed by France with Gwendal Le Pivert, Elton De Souza and Martin Ferrie. Italy is on the lowest step of the podium with Daniele Di Stefano, Giuseppe Bramante e Duccio Marsili.
500m Senior Ladies
Gold Maria Fernanda Timms - COL
Silver Geiny Pajaro - COL
Bronze Maria Loreto Arias - ECU
500m Senior Men
Gold Edwin Estrada - COL
Silver Pedro Causil - COL
Bronze Ricardo Verdugo Campos - CHI
1000m Junior Ladies
Gold Ana Sofia Ruiz - COL
Silver Kollin Andrea Castro - COL
Bronze Fran Vanhoutte - BEL
1000m Junior Men
Gold Stiven Andres Gonzalez - COL
Silver Andrea Cremaschi - ITA
Bronze Louis Colin - FRA
3000m Relay Junior Ladies
Gold COLOMBIA
Silver ITALY
Bronze FRANCE
3000m Relay Junior Men
Gold COLOMBIA
Silver FRANCE
Bronze ITALY
3000m Relay Senior Ladies
Gold CHINESE TAIPEI
Silver COLOMBIA
Bronze FRANCE
3000m Relay Senior Men
Gold COLOMBIA
Silver FRANCE
Bronze ITALY
Track races are done and dusted. Here below the Medal Standings after the competitions on track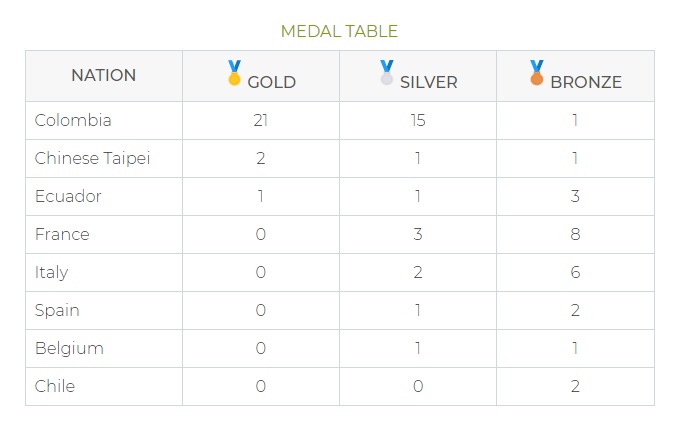 Keep following us here:
Official Website: www.mundialesibague2021.com
Competition Schedule&Results: Event section
Photo Gallery
Live Streaming English Commentary
Live Streaming Comentario en español
Podcasts: worldskate.tv
Official Social Media: FACEBOOK - INSTAGRAM - TWITTER