At Dusseldorf the 14th Senior Men and the sixth Women In line Hockey world championships are on the stage from July 6 to July 12.

Unfortunately Internet connection was broken on July 8 so we were unable to post the results on FIRS website. We hope it will works now.

Seventeen Men teams will try to win the gold medal at the venue Dusseldorf-Ratigen.

Game is over NETHERLAND 3 - KOREA 4

Game is over AUSTRALIA 3 - MEXICO 4

Game is over BELGIUM 4 - CHINA 5

Game is over SPAIN 10 - VENEZUELA 1

Game is over IRAN 3 - NETHERLAND 5

Game is over AUSTRALIA 3 - BELGIUM 3

Next Game 07:30 am local time on July 10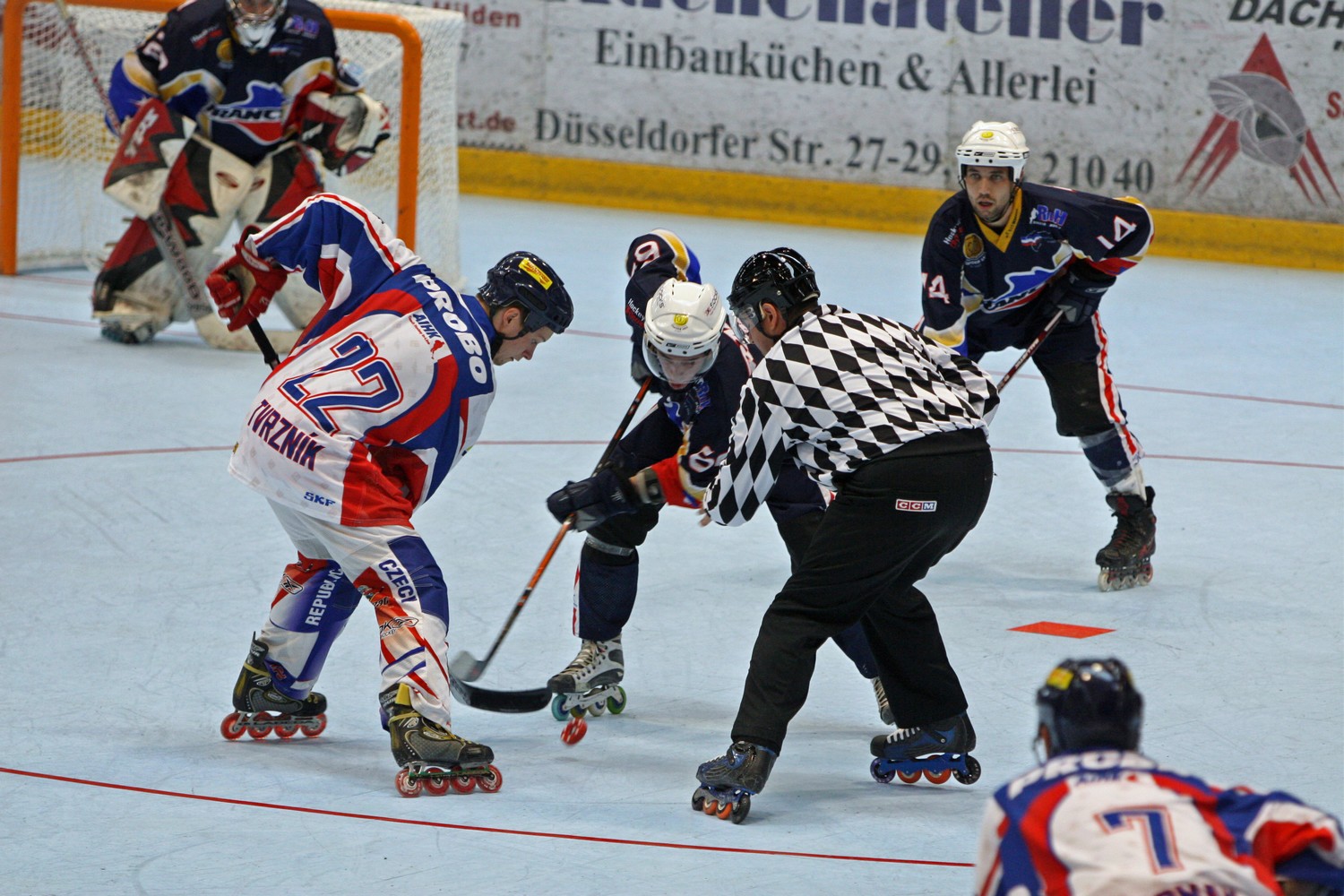 Ten Women Teams will try to do the same at the venue Dusseldorf-Benrath.

Game is over GREAT BRITAIN 6 - JAPAN 0

Game is over GERMANY 1 - SPAIN 3

Game is over FINLAND 0 - CZECH Republic 2

Game is over GREAT BRITAIN 2 - CZECH Republic 2

Game is over CANADA 7 - SPAIN 1

Next Game July 10 09:30 am GERMANY vs JAPAN

To see Men schedule and results click here.

To see Women schedule and results click here.

MEN SCORESHEETS see Videos at the end of this page

M01 Mexico vs Netherland M02 Australie vs China M03 Great Britain vs Venezuela

M04 Czech Republic vs Korea M05 Switzerland vs Spain M06 France vs USA

M07 Germany vs Netherland M08_Belgium-Iran M09 Canada vs Italia

M10 Mexico vs Iran M11 China vs Venezuela M12 Great Britain vs Australia

M13 Switzerland vs Canada M14 Italy vs Spain M15 Iran vs Netherland

M16 USA vs Korea M17 Germany vs Belgium M18 Czech Republic vs France

M19 Mexico vs Germany M20 Australia vs Venezuela M21 Great Britain vs China

M22 Belgium vs Netherland M23 France vs Korea M24 Canada vs Spain

M25 Germany vs Iran M26 Czech Republic vs USA

WOMEN SCORE SHEETS due to lack of wireless in Benrath we need more than 12 h to post score sheets.

W01 Finland vs Namibia W02_USA vs Great Britain W03 Spain vs Japan

W04 Czech Republic vs France W05 Germany vs Great Britain

W07 Spain vs USA W08 Finland vs France W09 Namibia vs Canada

WOMEN VIDEOS Czech Republic - France France vs Canada

MEN VIDEOS France vs USA